Are you considering placing a marvelous photograph in your home or office space? We feature a great selection of contemporary and historical photographs of Chicago. Formally known as the Sears Tower, the Willis Tower is one of the tallest buildings in the world and the second-tallest building in United States. It is 110 stories high, reaching 1,451 feet into the air. The Willis Tower remains one of the most popular tourist destinations in Chicago, where over one million people come to visit its high observation deck annually.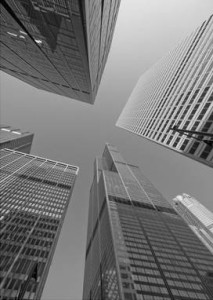 In 1969, Sears Roebuck and Company hired architects Skidmore, Owings and Merrill to design a central office space for its operations. The skyscraper cost more than $175 million to build and used enough concrete to make an eight-lane, five-mile-long highway. After three years, the Tower was complete and topped with two antennas for local television and radio broadcasts.
The Willis Tower was the first building to use Fazlur Rahman Khan's bundled tube structure which created more space and cost less. For Khan's contributions, a sculpture of him stands in the Willis Tower lobby. In 2009, U.S. Equities designed and renovated Skydeck Chicago and developed The Ledge, which was a series of glass bays on the 103rd floor that provide visitors a high view of the city.
The skyscraper was renamed Willis Tower in 2009 after the Willis Group Holdings, which occupied a space in the building. If you would like to learn more about these photographs, you can follow this link, Find Chicago Photographs Sale.
Let's Be Friends:
Get Your Social On: